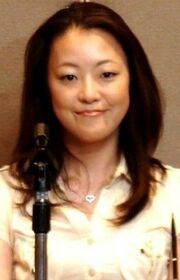 Miwa Ueda
(上田美和
Ueda Miwa
, born September 29 in Hyōgo Prefecture, Japan) is the creator of
Peach Girl
and
Peach Girl: Sae's Story
. She is also well known for
Angel Wars
and
Papillon
.
Biography
Edit
Ueda was born on September 29 in Hyōgo, Japan. Her first two series, Kyou no Watashi wa Komatta Doll and Kyuupii no Pantsu o Nugasanaide were published in 1987. She went on to write G-Senjou no Maria and Tsukiyo no Akazukin in 1988, Jesus Christ! and Sine Cosine Koi Sign in 1990, Oh! My Darling in 1991, Imitation Gold and Angel Wars in 1994, and Glass no Kodou in 1996.
In 1997, Ueda began Peach Girl that ran for eighteen volumes in Bessatsu Friend. It was adapted into an anime and live-action drama. She also won the Kodansha Manga Award in 1999 for Peach Girl. After Peach Girl, Miwa Ueda wrote the sequel, Peach Girl: Sae's Story, which was also serialized in Bessatsu Friend.
She went on to write Papillon in 2006, which ran for eight volumes in Bessatsu Friend. It was published in English by Del Rey Manga. Her other works include, Nakechau Ryouomoi (2003), a short story in Happy End na Kataomoi (2007), Pure-Mari (2010), and Rokomoko (2011). Ueda in currently working on Aruite Iko, which began in the November issue of Bessatsu Friend.
Kyou no Watashi wa Komatta Doll (1988)
Kyuupii no Pantsu o Nugasanaide (1988)
G-Senjou no Maria (1989)
Tsukiyo no Akazukin (1989)
Jesus Christ! (1990-1991)
Sine Cosine Koi Sign (1990)
Oh! My Darling (1991)
Imitation Gold (1994)
Angel Wars (1994-1996)
Peach Girl (1997-2003)
Nakechau Ryouomoi
Peach Girl: Sae's Story (2003-2006)
Papillon (2006-2009)
Happy End na Kataomoi (anthology; 2007)
Pure-Mari (2010)
Rokomoko (2011)
Aruite Iko (2012-present)